Last night I attended an alumni event for the University of Louisville with my brother at this gorgeous house, owned by a prominent doctor and pilot here in Atlanta.  The property was amazing and the inside was beyond  incredible… just envision lots of beautiful textiles, antiques, amazing furniture, Carrera marble floors and so much more.  I wish I could have taken pics to show you. 
As I mingled with guest I struck up a conversation with a woman and over the course of our conversation we ended up talking about things in our lives that we can't live without. It's enlightening to hear about someone elses life and what makes them happy and joyful. 
 I shared some of the things I can't live without and to give you a little peek into my life, I thought I'd highlight 5 Things I Can't Live Without here on the blog today!
 Nouvelle Candles
If you've followed my blog for a while you know I love candles and have one burning just about every day at home.  My favorite candle of all times is the Nouvelle Crepe Myrtle candle.  I love the strong floral scent and that the scent burns clean and is strong all the way to the end.  No wasted candle here! 
Here's how Nouvelle describes their CREPE MYRTLE candle:   Narcotic in its allure, a landmark in southern landscapes for centuries. This unique intermingling of white honeysuckle, light citrus and exotic green wood is truly captivating. Our best selling fragrance. 
You can buy Nouvelle candles here!
  Donna Karan Cashmere Mist Body Creme
I think every girl needs a signature scent and for me it's Donna Karan's Cashmere Mist.  I wear both the fragrance and body creme everyday!  I wish you could smell the scent through the screen but take my word for it, it's amazing and sexy.  Head here to check out all the Cashmere Mist products.
   Chobani  Greek Yogurt
Just about every morning I start the day with this oh so yummy yogurt and a cup of green tea in one of these adorable tea cups (below).
Handpainted Tea Cups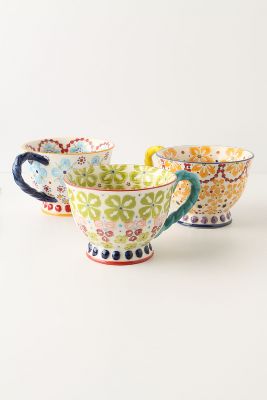 I add a little granola to my Chobani Yogurt (my favorite flavor is the Apple and Cinnamon) and enjoy a hot cup of tea in one of these mugs from Anthropologie.  Last year at Christmas, one of these mugs was on my wish-list and over the course of the year, I've massed a collection of them in different patterns.  They make me happy!
And, finally… 
My To-Do List and Clipboard!
I am an organizer and can't start my week without my to-do list outlined…it's a Sunday evening ritual.  I stumbled upon this free downloadable to-do list early in the year and love it to death!  It makes outlining all the things that need to get done in my life quick and easy.  And, to keep my list and papers close at hand, I use one of my handcrafted clipboards.  I carry my clipboard everywhere with me and love that it adds a little style to my organization.  This awesome To-Do list is courtesy of A Pair of Pears and you can download it from here!  And, if you want a chic clipboard of your own, head over to the ConfettiStyle Design Etsy shop here!
So there you have it…5 Things I Can't Live Without.  While they may be little things, they are things that make my days a life sparkle!
What things can't you live without?  I love to know so do share!